Recognize spoof and phishing messages
To stay safe and protect your data, be aware that scammers might target Vinted members with phishing attacks via:
Messages on Vinted

Text messages

(SMS)

Emails

Direct calls
At first glance, they often look like official messages. In truth, they are sent by scammers in hopes of stealing your identity or online accounts.
Senders of such spoof emails or messages may pretend to be:
Vinted representatives (e.g. our customer support)

Our shipping providers

Our payment providers

Buyers interested in one of your listed items

Any other service you might use via Vinted
Important

Scammers typically ask for your contact info, sensitive data, or login information. Phishing messages might also contain links to malicious sites or have infected files attached. 

Don't open suspicious links or attachments and do not fulfill any of their requests. Please report suspicious activity to us.
---
How phishing emails and messages look like
On Vinted:
In a fake message on Vinted, you might be asked for your:
Login details, payment account, or another service you use when buying or selling on Vinted

Email address, phone number, credit card details, pictures of your ID, or similar information

Pictures or videos of an item you're selling to be sent via WhatsApp, text message, or other messengers in the hope of spamming your private number. 
It's important that you never disclose your contact personal to buyers or sellers. Discussing purchases should never be taken outside Vinted's conversation screen.
Outside Vinted:
A spoof email may include the same requests, as well as:
Links to bogus sites, where you'll be asked to provide your sensitive data (logins, credit card details)

Attachments containing malware

Requests to act immediately, saying that something bad will happen if you don't.
Note



These phishing messages may include Vinted logo, names

or other features like colors, fonts, and buttons that we use on our web page. They might also use 'Vinted' in their web address. Therefore, it might be difficult to spot a fake site.
Here are some examples of fake site addresses: myvinted.dreamlandshop.net, vintdregistres.fr, onvirev.fr, atvnt.fr, etc. Please note that Vinted site will always have vinted.com/ part in the address. 
---
How real Vinted messages look like
On Vinted:
1. We contact our members via this support account only. A badge in the member's profile page also indicates that it's a representative of Vinted:

If a member pretends to be from our team but doesn't have this badge on their profile page, please Report them, so we can keep Vinted a safe place.
2. We only ask for your ID when you reach your payout threshold. When asking for credit card proof or bank statement, we inform that sensitive details may be covered up.
3. Links in our messages can only direct you within our or one of our partner's websites (e.g. shipping provider). Also, our links never have attachments in them, unless you ask us for your personal data that is stored at Vinted. 
Avoid links that end with "shortcm.li" or similar unrelated website addresses. If a link is redirecting to another website, you will be informed that you are leaving Vinted platform: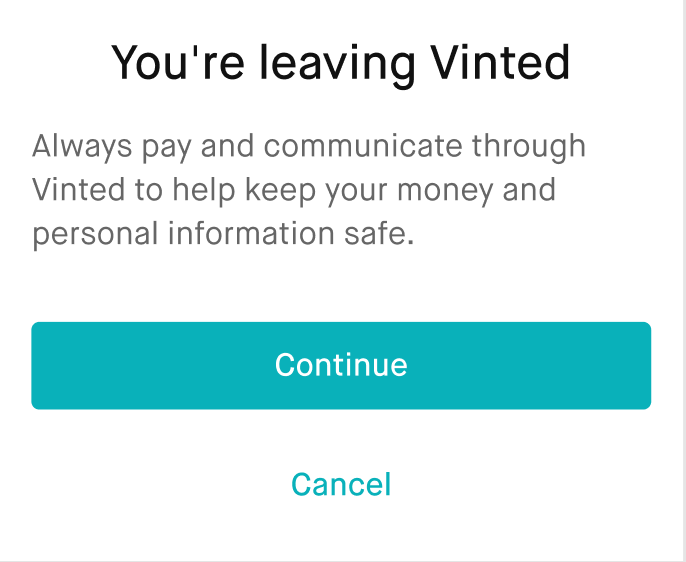 Outside Vinted (on email):
Our email messages will be sent from

vinted@vinted.com

– our official email to communicate with the members. Therefore, we also use

no-reply@vinted.com

,

dpo@vinted.com

and

legal@vinted.com

emails for official and legal updates from Team Vinted.

Only lowercase letters will be used in the address.




Please note that very similar email addresses may be used by scammers, for example,

service.vinted@gmail.com; vinted.important@gmail.com;

Service@PayPal.com

.




Pay extra attention to typos, word order, and letter case in the address. Don't rely on the sender's name or the message title.
If you are unsure about the message's authenticity, feel free to report it.
Main Takeaway:

When requesting any of your information, we will always ask you to provide it safely via our Help Center.
Did you receive a message that has some features of phishing, spam, or a spoof email? Please report it.
Was this answer helpful? or
Thanks for the feedback!
Thanks for the feedback! We'll try to improve the answer.